About AutoSock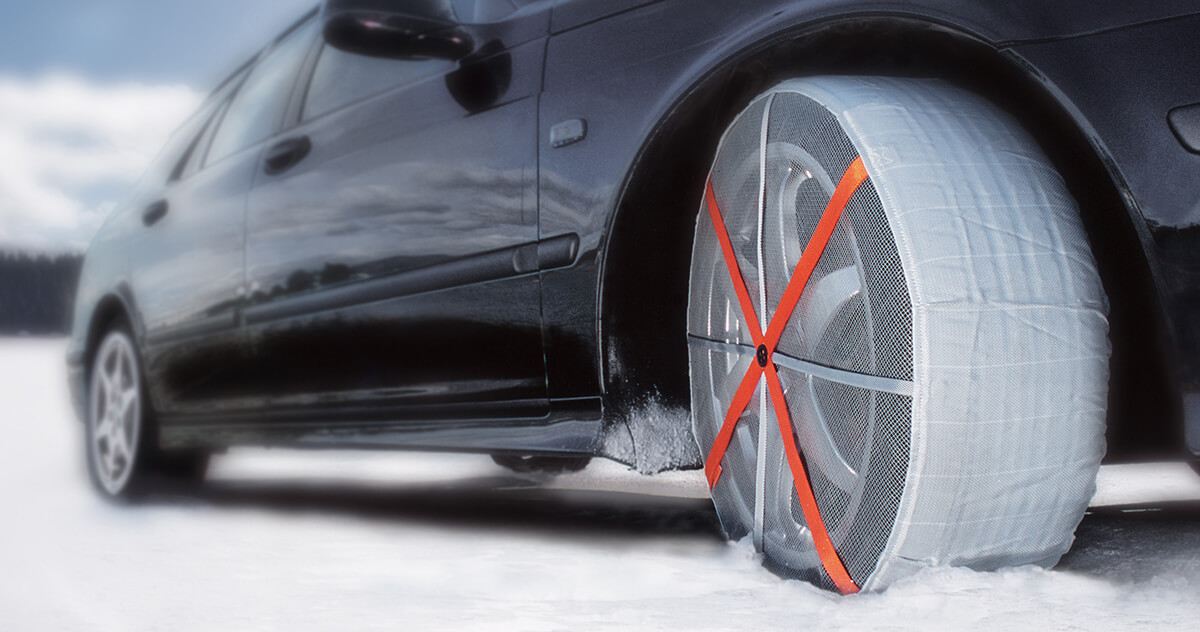 In a nutshell
AutoSock are reusable textile 'socks' which are pulled over the driving wheels of vehicles which need extra grip on ice or snow. The grip is achieved through maximising friction, coupled with high tech textiles. AutoSock are quick and easy to fit and remove - no special training is required - and they fold up for easy storage to about the size of a shirt. Use them as a precaution, or after you've got stuck.
Development
Tyre specialist Bård Løtveit came up with the idea over 20 years ago, and the initial development team was headed by Dr. Dag Anders Moldestad, the internationally renowned friction expert who has also worked extensively on the other side of the friction coin, advising the Norwegian ski teams in minimising friction.
AutoSock AS was established in Norway in 1998 and has been part of the Fred. Olsen Group since 2001, providing impeccable credentials as well as the development finance required.
AutoSock's unique road contact fabric was developed in conjunction with KoSa, now part of Koch Industries' INVISTA business, the world's largest manufacturer of polyester products, who still make AutoSock's fabric.
Dynamic testing was done in conjunction with BMW, Mercedes-Benz and Volkswagen on test tracks in Germany and northern Scandinavia.
Tests and approvals
AutoSock worked with TÜV SÜD in Munich for many years to develop a product with the highest levels of performance and safety. As well as TÜV approval, AutoSock are approved to V 5121 by the Austrian ÖNORM.
AutoSock has also been independently tested and approved as Original Equipment by many car manufacturers, including BMW, Fiat, Hyundai, Jaguar, Kia, Land Rover, Mercedes-Benz, Nissan, PSA Peugeot Citroën, Seat, Toyota, Volkswagen, and Volvo.
AutoSock is the first and to our knowledge the only textile product worldwide to have been approved and certified to the new European standard EN16662-1:2020, which comes into force on 1st December 2020, the same standard that's applied to metal snowchains.
In summary, AutoSock is a research-led, science-based, high-tech product that has been developed and refined over time, by the best names in the business, to provide the highest levels of safety and performance consistent with sensible pricing and good value.
Every aspect of the product and its production conforms with the necessary standards and is properly documented, with full product liability insurance.
Sizes for almost all vehicles
There are sizes for cars, vans, trucks, buses, fork lifts, and even for aircraft tugs. AutoSock are sometimes also used inside warehouses for tyre protection, to stop warehouse floors being marked by fork lifts and high level access lifts.
About John Jordan Limited
John Jordan Limited is the distributor for AutoSock products in the UK and Ireland. Our main business is in domestic and commercial roof racks and other load carrying accessories, with trading names including The Roof Box Company (roofbox.co.uk) and VAN-RACKS (van-racks.co.uk).
Calling fleet managers and the UK's highways agencies!
We know, and our customers know, that the grip which AutoSock provides on snow and ice is truly astonishing.
AutoSock keep businesses moving - delivery and service fleets in particular should be looking for effective and safe ways to maintain their customer service levels. AutoSock have been used by our emergency services fleets for many years.
AutoSock would also be an effective and very cheap solution to keeping the UK's major roads and motorways moving in snowy weather – there is often a skidding truck at the head of any queue of stationery traffic.
We continue to try and get the message out to the business community and government agencies, particularly through attendance at winter resilience and fleet orientated shows and exhibitions.
Our experience is that demand can exceed immediate supply once the snow starts to fall, even though we hold significant stocks. Even a few weeks of forward planning, to get sufficient pairs of AutoSock into company vehicles before the snow comes – snowfall in the UK is unpredictable and the weather can change at very short notice – would be very beneficial to all parties!
Where to buy
For more information, please see the Where to buy link at the top right; there is a separate contact form for fleet and trade enquiries.